In 1995, Jeff Bezos founded Amazon to be an "everything store." this is a minor change
I'd say he's succeeded.
Today, Amazon is a multinational company that employs more than 75,000 people and offers a wide variety of products and services, including cloud computing, original streaming content, AI, and, of course, delivers nearly every product imaginable right to consumers' front door.
In addition, Amazon makes up nearly 50% of all retail spending in the United States and gets more than 20 million views per month.
That level of traffic and sales makes it an ideal affiliate marketing program for those looking to make passive income by publishing content to promote their favorite Amazon products.
You're here to find top-selling items on Amazon, but this tutorial will suit you best if:
You have picked your niche already and now need to know which Amazon affiliate product to sell that will make you money.

Or if you're simply looking for top-selling items on Amazon so you can then turn those products into your Amazon niche.
In this post, you'll uncover how to find all of Amazon's best-selling products in any niche of your choice just by following along with our step by step guide.
Learn how you can maximize your profit by selling the products that are proven Amazon best sellers, instead of just guessing what people want to buy.
Think about it:
When you know the proven best selling Amazon products in your niche (that Amazon confirms are the best sellers), you can promote them and be sure they'll sell.
What You'll Learn In This Post on Finding Amazon Best Sellers in 2020:
Where to find Amazon's bestseller list and why it matters if you want to find top-selling items on Amazon.

What makes a good product versus a bad product.

How to create a spreadsheet to track the most profitable Amazon products.

How to find out what types of products your audience is interested in

How to narrow down the main list to your specific niche, so you get the REAL products your audience want (i.e., proven Amazon best selling products)

How to choose the right broad and subcategory for your niche to help you find the RIGHT products for your audience.

How to double-check if the products listed are a good fit for your site.

How to make sure the products you promote are 'easy to sell' to maximize your earning potential.

Where to find complementary products that also sell well so you can maximize your passive income.

How to sort the data to uncover hidden gems.

How to test products and to ensure your products are making you as much money as possible.

75 of the best-selling products on Amazon
What won't you find? A complete list of the best selling Amazon products in 2020 — and here's why:
The best selling products for a technology blog are going to be different from the best selling products for a beauty or health and wellness site.
You can find lists of the so-called "best selling Amazon products" — but that is pretty useless if they don't first know who your audience is.
So what I'm going to do is show you how to find the best selling products for your audience so you can start making passive income faster. But if you're curious what the top 75 products are across five categories on Amazon right now, jump ahead.
Finding the Right Affiliate Products Isn't As Easy As It Used to Be!
You already know that affiliate marketing can be an effective way to make passive income by promoting products you already use. However, if you just promote the products you already use, you might be leaving money on the table.
The reality is, you need to promote products you believe in — but also ones that your customers are willing to buy, and finding the right mix of profit and saleability can be tough.
Too many affiliate marketers don't know where to focus, so they just promote everything.
That is a problem because users only buy when you build trust with them — and that trust is built through valuable, in-depth content.
In fact, 43% of US buyers said that brand trust is more important now than ever before.
Think about this — you wouldn't go to your car mechanic to get a recommendation about what dress to buy for a Vegas weekend, right? You'd go to your favorite fashion blogger or stylist.
That is why we talk about niche so much in affiliate marketing.
Within that niche, however, you need to find the good products that your audience will actually buy.
What Makes a Profitable Best Selling Amazon Product VS a Less Profitable One?
What exactly makes a good Amazon affiliate product versus a bad one?
Unlike shoppers, who are focused on how the product makes them feel and whether it fits their needs, you need to pay attention to factors like how much it weighs and how well it will sell.
But how do you know which products will sell well — and continue to sell in the months and, hopefully, years to come?
Here are a few factors to keep an eye on when you are looking for high-profit affiliate products on Amazon.
High-profit affiliate products:
Sell fast (are in high demand)

Light and cheap to ship

Have a high affiliate earning/profit margin

Have a high branding potential

Low return rate

High satisfaction rate
Low-profit affiliate products:
Cheap, low-quality product

Heavy, slow shipping

Low affiliate return

Narrow niche

High return rate

Patented or trademarked

High competition (more than 200+ reviews)
Whether you are starting or looking for better-selling Amazon products, it can be frustrating to figure out what products to choose.
The solution? Stay focused, and do your research.
Don't worry, we're going to walk through exactly how to find the best selling Amazon products for your affiliate marketing program.
Here's how to get started:
The first thing for you to do is go to Amazon.com right now so you can follow along step by step with me as you go through this post, and by the end, we'll both have found the best selling products in our niche.
Which we can start promoting on our sites and making affiliate commissions.
Sound good?
Well, if you've opened up Amazon.com (or whatever country-specific platform you'd like to use) already, then let's find those Amazon best sellers.
01 – Create an Amazon Product Spreadsheet
You are going to be sorting through a ton of data here, so the first step is to create a Google Doc or Excel Spreadsheet.
This will keep you organized — and make it easier to tell what products are going to be best sellers, not just in general, but for your niche.
How you set up the spreadsheet will vary based on factors you consider important; however, I've provided an essential guide to get you started.
Feel free to add additional factors and columns as you see fit.
Create two tabs: One to track topics or categories (which you will find through research in the steps below), and another to track the exact products you want to promote.
Create columns: On tab 2, where you'll track trending products, add columns for product name, broad category, number of reviews, cost, shipping cost (if applicable), return rate, and stars.
Keep the categories clean: As you add products, you can use the different columns to sort. For example, you might sort by price to create a list of high-end products or for an "Under $25" gift guide.
As you sort through the data, you might find other factors that matter — such as how much you'll earn per product or whether your audience buys a similar product.
Feel free to adjust the spreadsheet to fit your needs — the steps above are just a starting point.
02 – Find Out What Types of Amazon Products Interest Your Current Audience
If you already have an established audience, your first step should be finding out what types of interests they have and what types of products they care about.
Just because a product sells well on Amazon doesn't mean your audience will buy it.
You need to take a look at the data.
Note: If you are just getting started and haven't built a site or social media following, these tips won't be very useful right now. However, this section does provide valuable info you can use later, once you have created content and are starting to see a bit of traffic.
Facebook Insights
If you already have a presence on Facebook, you'll have access to a wide range of demographic information about your audience, including where they live, their interests, and what types of products they might buy.
Go to Insights > People
Insights is Facebook's native reporting tool. If you have a business page, you'll see the tab at the top of it.
View Insights, then tap People in the left sidebar to see demographic information about your audience, including their age and location.
Go to Insights > Posts
Also in Insights is information about what type of content your audience interacts with. (Note, these metrics are limited to the content you post.)
This data can provide insight into what types of products they are likely to purchase based on posts that get a ton of engagement.
Let's say you post about smart speakers and get a lot of engagement — that might give you an idea that promoting products like an Apple Homepod or Alexa voice remote might be successful.
Once you start promoting products, you can also use this data to determine which products are popular and look for related items.
Google Analytics
If you already have Google Analytics setup to track the activity on your website, you can learn a bit more about your audience there.
If you don't have Google Analytics set up on your site, I strongly recommend it. Here's how to set it up.
To learn about your audience in Google Analytics:
Sign in to Google Analytics
Go to Audience > Demographics
If you haven't already, enable the Demographics and Interests Report (You'll have to wait 24 hours to get data.)
This will provide you with access to seven different interest and demographic reports, including:
Your Email List
If you have an email list, it can be another valuable source of information about what your audience might like — or not like.
Try sending your email list a survey using a tool like Survey Monkey or Google Forms and ask them about the types of products they are interested in, want to learn more about, or plan to purchase in the next few months.
Offering a prize — like a drawing for an Amazon gift card — can help encourage participation.
Other Sources of Audience Information Data
Depending on where you are starting your affiliate marketing business from, you might have access to other sources of information about your audience, including:
Social media insights from Instagram, LinkedIn, or Twitter
Your website's internal search data
Competitive analysis reports
All this data is just a starting point, though. It can provide insight, but to actually find the best selling products on Amazon, you'll need to head to the eCommerce site itself.
03 – Start With the Amazon Best Sellers To Find Your Most Profitable Products
Amazon makes finding the best-selling products site-wide and across all their niches incredibly easy.
The first thing you need to do though is open the Amazon Best Sellers Page. 
You'll see what's currently getting the most sales in the main categories of Amazon. Right now, that currently includes:
The board game Guess Who
Jumbo chalk
SunWorks construction paper
Fire Stick streaming media player
Wytze camera
Where the Crawdads Sing (book)
Echo Dot
Instant pot
Here's the thing — these might be popular right now, but your niche might not support promoting any of these product listings.
These best selling Amazon products should serve as a starting point of your research.
Remember that the best selling Amazon products lists changes, especially around holiday times such as Amazon Prime Day, Cyber Monday, and seasonal holidays.
So, the best selling product today might be impacted by an upcoming holiday — like Easter — or even an event such as back to school.
If any of these products do fit your audience's needs and interests, add them and their data to the second tab of your spreadsheet.
04 – Choose Your Niche's Broad Category
Your niche site probably isn't as broad as "Toys and Games" or "Electronics," so you'll need to dig a little deeper to find the best selling niche products for your specific audience.
Here's how to find best-selling Amazon products for your audience, not just all Amazon shoppers.
On the left-hand side of the screen, choose the broad category your website fits under.
For example, if you had a niche site about photography, you'd click on the "Camera & Photo" category.
You can see that the Wyze Smart Home Camera and an Outdoor security camera are at the top of the list.
If you talk about home security, these cameras would be great products to write about and link back to.
However, remember that just because they are the best selling Amazon product list doesn't mean they are the right fit for you.
05 – Get to the Products Your Readers Care About Most (Find Subcategories)
But maybe your readers don't really care about whatever security cameras are popular right now and care more about their serious, professional photography business.
You might need to dig deeper and look to find the right best-selling product listings.
Don't worry; you just need to narrow down to a subcategory to find the right best-selling products.
In the right-hand menu, you can see that underneath the category you're currently in niches down even further, and you can choose one that would best fit the buying desires of your target audience.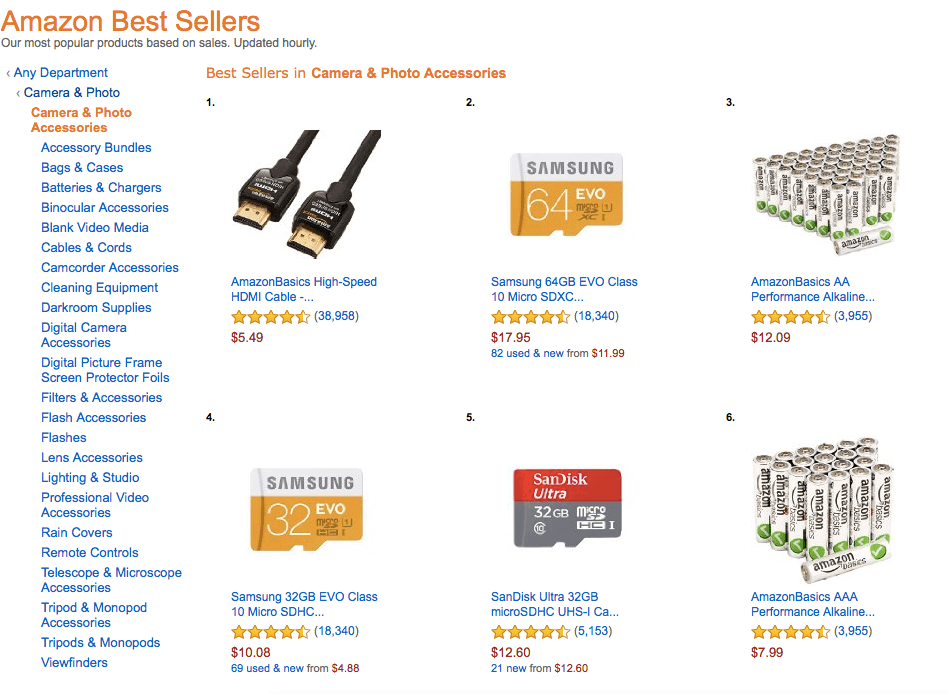 Once you get there, you can niche down to even more specific product items that all sell really well on Amazon.
Why? Because they're the top sellers.
Here, you start to see the categories for the actual specific products true professional photographers (or serious hobbyists) would be looking for.
Things like darkroom supplies, filters, flash accessories, remote controls, and tripods.
You can even narrow it down to talk about and sell the specific chemicals they need in their darkroom while featuring only those products you already know have a great success rate of selling on Amazon.
06 – Double-Check the Product (This Will Tell You If They Are Top Selling Items On Amazon for Your Niche)
Let's say on your niche site for serious photographers that you're writing a tutorial for first-timers in the darkroom, and you want to make sure you link to plenty of products to maximize your earning potential.
It only makes sense then that you'd probably link to the #1 product listed under Camera & Photo > Accessories > Darkroom Supplies > Chemicals.
But when I click on the product to look at the description and read the reviews, I see this:
And this:
It's primarily used in screen printing, and people are talking about using print on t-shirts, not their pictures in a dark room.
Even if this chemical can be used in a dark room (I have no idea if it can), it isn't a great fit because most photographers aren't going to buy it if they think it's for screen printing.
It's probably best to avoid listing on your site unless you're positive that 100% of your readers are total photo connoisseurs and already know what you're talking about.
In which case, such a tutorial probably wouldn't be necessary for them.
Product number two on Amazon's best-seller list for this category, though, is right on the money:
Beyond the few off-handed comments on how well this product also works as a cleaner for showers and gravestones (you never know what you'll find on the internet), everything about this product listing yells photography — which is what you want.
07 – Make Sure It Meets Certain "Easy-to-Buy" Criteria
Some affiliate marketers specifically target higher-end purchases — think laptops, digital camera bodies and lenses, or home security systems.
Those buyers tend to look for detailed content and reviews to help them choose the right model.
While that content takes longer to create, those products also bring in more money per purchase.
But if you're trying to get your readers to fill up their Amazon shopping carts and buy everything you suggest, you want them to be low-barrier products that are easy impulse buys.
Try sticking to these criteria for the top-selling products you choose:
A price of $50 or less: Makes it an easy impulse purchase
Less than 3 pounds in weight: Likely to have free shipping.
Low return rate: Think a new conditioner versus a bathing suit that might not fit.
High branding potential: People are more likely to trust a product with a name they recognize versus a private label.
While these items may be important purchases, a lower price and smaller size make themeasier to purchase on a whim and don't require a lot of thought towards the justification of their purchase.
Say, for example, you want to promote the best kitchen supplies for college students moving into their first apartment. You probably wouldn't include these $300 fridges, right?
It wouldn't fit your market; they are too heavy to ship and too expensive — even though they are best sellers.
But a little further down is this fridge:
Small, around $50 bucks, and still fits the need. A much easier impulse purchase than a $300 fridge (and it just makes more sense for a dorm room.)
Just keep in mind that these criteria may not apply if you're intentionally advocating an expensive product.
08 – Check Out the "Also Bought" Section
Amazon is really, really good at selling.
Every time a customer checks out a product, they have a section directly underneath the product description showing related products that make nice complements to the product currently being considered.
This encourages more shopping and higher checkout values — which is great for Amazon.
For you, though, it can be a great way to suggest product pairings in conjunction with the best-selling products you're talking about on your site.
Beyond the chemicals, this also bought section suggests lots of hardware needed for darkroom development. A goldmine if you're putting together a how-to tutorial on the subject.
And even though the products shown might not be "best sellers" themselves, you know that they are good enough products that lots of people within your niche are still buying them anyway, so they're worth adding to your content.
So, add them to your spreadsheet.
If any of those products are best sellers, well, you can create detailed content about that specific product and link back to your original post.
09 – Find Diamonds in the Rough: Mine the Reviews
When deciding what products to sell through affiliate marketing, choosing products that fill a gap can be the key to selling more.
Start by looking at reviews of products and mining the pain points.
Say you found that your customers are really interested in finding the right pillow for fixing neck and shoulder pain. Pillows are light, usually under $50, and most offer free shipping — they hit several of the criteria for high-quality products we covered above.
So, you start looking at all the orthopedic pillows on Amazon — there are dozens of options. How do you know which one will sell the best?
Here's the trick — you don't have to get the best selling product every time. Sometimes a lower selling product can be made into a high-selling product — at least for your audience.
Let's look at Amazon's Choice, the EPABO contour memory foam pillow, and take a look at the reviews.
We are not looking at the positive reviews; we are actually looking at the negative ones:
Some of these reviews might be nonsense — but several buyers mention the pillow loses shape and doesn't offer enough support. That's a pain point we can address.
So, we're going to go look for an orthopedic pillow that doesn't have that issue. This one looks promising:
It definitely has more contour. ✔️
It is around 3 pounds and less than $50 ✔️
It isn't a best seller though — but it does solve an issue a better selling pillow doesn't.
That represents an opportunity.
Want to find potential best selling products that aren't being promoted by every other affiliate out there?
Look for the diamonds in the rough.
Look for products that may not be selling well now, but solve a common pain point for that product.
Then, write long-form reviews or guides and mention that pain point as a selling point.
10 – Leverage an Amazon Keyword Research Tool
The issue with using Amazon to find best selling products is that every other affiliate marketer is doing the exact same thing. It is hard to find anything new when you are all using the same tools.
That's where Amazon keyword research tools come in handy. These tools help you find the top-ranking Amazon key terms, which you can then use to find Amazon niches that are selling well.
Jungle Scout is one of the most popular Amazon keyword research tools.
Pricing starts at $19 a month for the extension, but you will likely want access to their product database, so I recommend getting the Jungle Scout plan at $39 a month.
(You don't have to keep it forever, and they do offer a 2-week money-back guarantee if you want to see if it's worth the cost.)
Start by searching for a product term you think your audience might be interested in (you should have this data from the research you did before!).
Type that into Jungle Scout, and it will tell you the exact number of searches performed for that key term.
Kitchen scissors, for example, are searched more than 21,000 times, which is much higher than herb scissors.
What does that tell you? Even if you are writing about growing herbs, you should promote kitchen scissors, not just herb scissors.
You will also get access to an "Opportunity Score" which tells you product types that have a high demand but low competition — this tells you the top-selling products in those areas are going to be supercharged.
Their product database can be used to find even more high demand products.
Now, this tool is designed mostly for Amazon FBA business owners to find out what to sell on Amazon.
But, it can give Amazon affiliate marketers quite a bit of insight into what types of products shoppers are buying — so you can promote similar products.
If you find niches that are relevant to your audience — or actual products — add them to your spreadsheet.
11 – Use Google Trends to Uncover Hidden Gems
Google Trends is a tool that shows how frequently a given term is searched. And, as an Amazon affiliate seller, it can be an untapped resource of rising trends in your niche.
Start by looking at the Daily Search Trends, which shows the most popular searches for the day.
Now, take a look at Real Time Search Trends. There are still a ton of news-related searches. But, there's also one that looks like it could be a good fit — the Fortnite Marker Pen.
Click on that listing, and you can see that searches for the Fortnite marker pen have grown a ton in the last few hours:
I don't know much about Fortnite, and this wouldn't be a good fit for a serious photography site, but if I promote products to gamers or teens, it could be pretty lucrative.
A bit more research, and come to find out it's a Deadpool's marker in the actual game, not a physical product we can promote.
Back to the drawing board.
A bit further down, we see the Sony WF-1000XM3 noise-canceling headphones are trending.
This looks promising!
By clicking on the listing in Google Trends, I found out why — they were on sale for just $99 yesterday. So we've missed the boat on promoting the actual product.
But, according to Google Trends, there are still a ton of searches — about a hundred or so an hour. Now might be the time to promote our favorite Sony WF-1000XM3 alternative.
Keep in mind; these are trending products. You might not have time to sit down and crank out a 3,000-word article before they are no longer trending.
But you can promote trending products on faster channels like through an email or social ads.
12 – Step 12: Sort The Data & Create a Strategy
I know — we've covered a ton of strategies so far. There is a reason for this — not every technique is going to work the same for every affiliate market.
Plus, not every marketer is going to have the same strategy — you might find that selling high-end blenders is actually quite lucrative. You do you!
Besides, if all affiliate marketers sold the exact same products, the industry would be pretty boring, right?
If you went through all eleven steps above, congrats! You should have quite an impressive spreadsheet of possible products and subcategories for you to promote.
Now what?
Once all that data is in your spreadsheet, it is time to start sorting and taking a deeper look at each product.
Consider the following:
How many products will you have on your site?
Which are the most profitable?
What type of content will you create?
Once you have these questions answered, it is time to create an actual strategy to promote all those best selling Amazon products you've been gathering.
For example, the strategy for a serious photography blog might look like this:
Write in-depth reviews with affiliate links of high-end digital cameras and lenses.
Use in-content ads to promote mid-level supplies, such as camera bags, straps, and darkroom equipment.
Use mid and lower priced Amazon products to create listicle type content, such as gift guides and lists of products for beginner photographers.
The goal here is to split the top-selling products into different groups with different promotional plans. In general, it makes more sense to invest time creating in-depth content for higher-end products, because you will make more per sale, and less time promoting less pricey items.
But, keep in mind:
You can make more money if you sell 20 $10 products than selling one $100 product — so don't just focus on the higher-end products.
Which is also why you need to track what works and what doesn't.
13 – Track Your Sales
The reality is, the best selling Amazon product today might not be the best selling product tomorrow. And you might find that your audience has no interest in some of the top sellers around, say, back to school time.
The best selling item for outdoor equipment during the summer might be the Lifestraw personal water filter — when consumers are likely to be camping and exploring the outdoors.
What about in the winter, when people are stuck inside — do you think it will still be a best seller then?
Probably not.
It is more likely that other product listings will rise to the top of the best seller list, like winter weather gear.
Which is one of the reasons why tracking is critical to your long term success as an affiliate marketer. Just like any retail or ecommerce company, you've got to stay ahead of the trends.
That means tracking and promoting the hottest products right now.
How are you promoting products? Are you writing reviews, sharing social posts, or including display ads in your current content? Creating gift guides or comparison posts?
Some of that content should be evergreen, meaning it will last for years to come.
But, if you are spending money on social media or search ads, make sure those items you are promoting are popular today.
You need to track the following data:
Track what sells — by week, month, and year

Research the most popular Amazon products regularly — at least once a month, but more often, if possible.

Add new products to your promotional calendar

Keep an eye on rising trends, holidays, and other common events so you can adjust the items you promote heavily.
Remember, the best selling products for your audience might not be the same as someone else's — that is why it is critical to do your own research and not just copy your competition.
75 of the Best Selling Products on Amazon
Using the strategies you've seen in this article, we've compiled a snapshot list of the top 75 best-selling Amazon products —products ripe for effective affiliate marketing.
Broken into 5 categories, here they are:
15 best selling tech and gadget products on Amazon
Fire TV Stick 4K streaming device

Fire TV Stick streaming media player with Alexa built in

Echo Dot (3rd Gen)

Sceptre E248W-19203R LED Monitor

GE 6 Outlet Surge Protector

TP-Link AC1750 Smart WiFi Router

Echo Show 5

Echo Show 8

Fire 7 Tablet

New Apple iPad

Kindle Paperwhite

UGREEN Watch Charger

Roku Ultra

Fire 7 Kids Edition Tablet

Ring Rechargeable Battery Pack
15 best selling beauty and fashion products on Amazon
Schick Silk Touch-Up Multipurpose Exfoliating Dermaplaning Tool

Artnaturals Hand Sanitizer Gel Alcohol Based

Aztec Secret Pore Cleansing Facial & Body Mask

Softsoap Liquid Hand Soap

Revlon One-Step Hair Dryer And Volumizer Hot Air Brush

Philips Norelco MG3750 Multigroom All-In-One

Softsoap Liquid Hand Soap, Aloe

Mineral Fusion Nail Polish Remover

75% Alcohol Disposable Hand Sanitizing Gel

CeraVe Moisturizing Cream

Neutrogena Makeup Remover Cleansing Towelettes

1 Gallon Hand Sanitizer Gel

Softsoap Liquid Hand Soap

Tinkle Eyebrow Razor Pack

Aveeno Daily Moisturizing Body Lotion
15 best selling home and kitchen products on Amazon
LiBa Mildew Resistant Anti-Microbial Shower Curtain Liner

TERRO T300 Liquid Ant Baits

Mellanni Sheet Set Brushed Microfiber

Bedsure Satin Pillowcase for Hair and Skin

AmazonBasics Lightweight Super Soft Easy Care Microfiber Bed Sheet Set

KitchenAid KC130OHAQA Classic Can Opener

SafeRest Twin Size Premium Hypoallergenic Waterproof Mattress Protector

Dash Mini Maker: The Mini Waffle Maker Machine

Lodge 742341 Miniature Skillet

Zulay Original Milk Frother Handheld

Instant Pot Duo Mini 7-in-1 Electric Pressure Cooker

ThermoPro TP03 Digital Instant Read Meat Thermometer

Photo Prints – Glossy

Reynolds Kitchens Premium Slow Cooker Liners

Reynolds Kitchens Non-Stick Baking Parchment Paper Sheets
15 best selling appliance products on Amazon
Vremi Countertop Ice Maker

Giantex Portable Mini Compact Twin Tub Washing Machine

IKICH Portable Ice Maker Machine for Countertop

Portable Compact Washing Machine

Portable Compact Mini Twin Tub Washing Machine

Portable Washing Machine

2IN1 Mini Compact Twin Tub Washing Machine

midea WHS-129C1 Single Door Chest Freezer

Euhomy Ice Maker Machine Countertop

Giantex Full-Automatic Washing Machine Portable

Sunpentown Upright Freezer

Panda Portable Machine

GE Profile Opal | Countertop Nugget Ice Maker

HomeLabs Portable Washing Machine

Upgraded Version Pyle Portable Washer & Spin Dryer
15 best selling sports & outdoor products on Amazon
Fit Simplify Resistance Loop Exercise Bands

BalanceFrom GoYoga Yoga Mat

Letsfit Resistance Loop Bands

BalanceFrom GoYoga All-Purpose Mat

DEGOL Skipping Rope Tangle-Free

Hanes Men's Pullover Ecosmart Fleece

BBrand Black Face Mask

CONTEC LED CMS50M Pulse Oximeter

AmazonBasics High-Density Round Foam Roller

CamelBak Eddy Kids BPA Free Water Bottle

SKLZ Pro Mini Basketball Hoop

BalanceFrom Puzzle Exercise Mat

Dickies Men's Crew Socks

Bell Standard and Self Sealing Bike Tubes

Sports Research Sweet Sweat Premium Waist Trimmer
Final Thoughts: How To Find More Best Selling Products Online & Profit From Top Selling Amazon Items
If you've got a niche site making money from Amazon already, then I'm sure you've found plenty of top-selling Amazon items to promote on your existing website by going through this step by step tutorial.
And if you're still looking for your Amazon niche or a list of best sellers on Amazon, then this resource should help you uncover endless best selling Amazon products that you can build a site around or explore for your niche.
Whatever you do, just remember the trick in selling Amazon products (or any other product), especially as an affiliate is to provide value and solve problems for your audience over just pitching products at them.